03 Oct, 2022
DR. KIJAJI CALLS ON TANZANIANS TO GIVE OPINIONS, IMPROVEMENTS ON THE NEW INVESTMENT LAW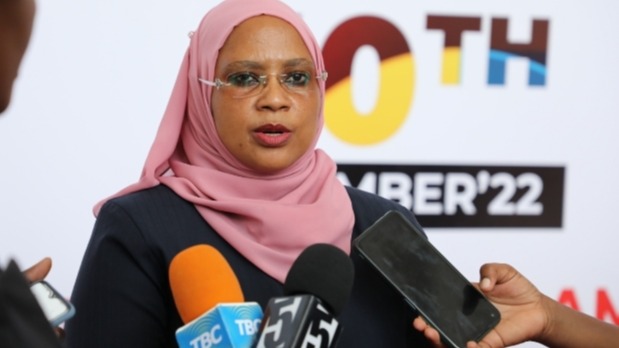 Minister of Investment, Industry and Trade Dr. Ashatu Kijaji has called on Tanzanians to comment on the improvements to the new investment law which was read for the first time in the eighth session of Tanzania Parliament. She said that the law has now been sent to the citizens so that they can give their opinion on how to improve it, the aim is to make it suitable for the development of the nation.
Dr. Kijaji said this in the Dar es Salaam region when he was officially launching the Business and Investment Forum that connects Tanzanian and Italian businessmen. She added that President Samia Suluhu Hassan is determined to nurture the investors well from inside and outside the country, that is why she has reduced the amount of money that the investor was required to have in order to be able to register at the Tanzania Investment Centre (TIC).
Dr. Kijaji said that previously for the Tanzanians were required to have one hundred thousand US dollars to register, but now they will only be required to have fifty thousand dollars. She said that due to the government's efforts to strengthen economic diplomacy between Tanzania and foreign countries, there have been positive results in the business sector where currently about 40 investment companies from Italy have participated in the Business and Investment platform that connects Tanzanian businessmen and Italy.
According to Dr. Kijaji, so far investments worth two billion US dollars have been made in this country from Italian companies.
Dkt. Kijaji amesema awali mwekezaji alitakiwa kuwa na dola laki moja za kimarekani ili ajisajili, ila sasa atapaswa kuwa na dola elfu hamsini tu. Amesema kutokana na juhudi za serikali katika kuimarisha diplomasia ya kiuchumi baina ya Tanzania na mataifa ya nje, kumekuwa na matokeo chanya katika sekta ya biashara ambapo hivi sasa kampuni za uwekezaji takribani 40 kutoka Italia zimeshiriki katika jukwaa hilo la Biashara na Uwekezaji linalounganisha wafanyabiashara wa Tanzania na Italia.

Kwa mujibu wa Dkt. Kijaji, hadi sasa uwekezaji wenye thamani ya dola bilioni mbili za kimarekani umeshafanyika hapa nchini kutoka kwa kampuni za nchini Italia.